IMPACT MEDIA SITE UP, COMPLETE
TARGETING INFORMATION NOW ON LINE
Release July 7, 2005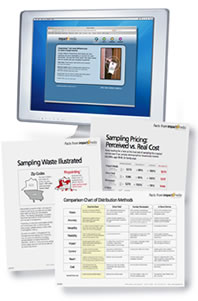 If you'd like a postgraduate education in target marketing, click on the screen to the right. You'll be at the Impact Media web site, where you can start checking out the 14 pdfs on the FACTS page. You'll find in-depth discussions of cost, reach and waste along with comparisons of sample distribution methods. Once you invest a little study time, you'll be up to date on the latest techniques in target methodology.
For more than 30 years, Impact Media has been a leader in sampling and in target marketing technology. Now those years of technique refinement are gathered and summarized on one compact site.
It's worth the effort.